If you have a domain and a vServer at Prepaid-Hoster, you can easily connect the domain to your server with our AutoConnect feature or take over the settings yourself.
If you want to connect the server manually with the IP address of the server, enter the IP address in all fields with the type "A".
Connect automatically
Click on your domain in the web interface and go to the DNS settings. There you will find a button with the label "Connect to PPH Server".

If you click on it, a dialog opens. There are all services listed, which you can use to connect to your domain. Select the desired server and then press Apply. Now all settings will be set automatically as they are needed for the DNS. Your previous settings will be overwritten, connections to MC or TS3 servers will be preserved. Provided you don't want to reset all entries before.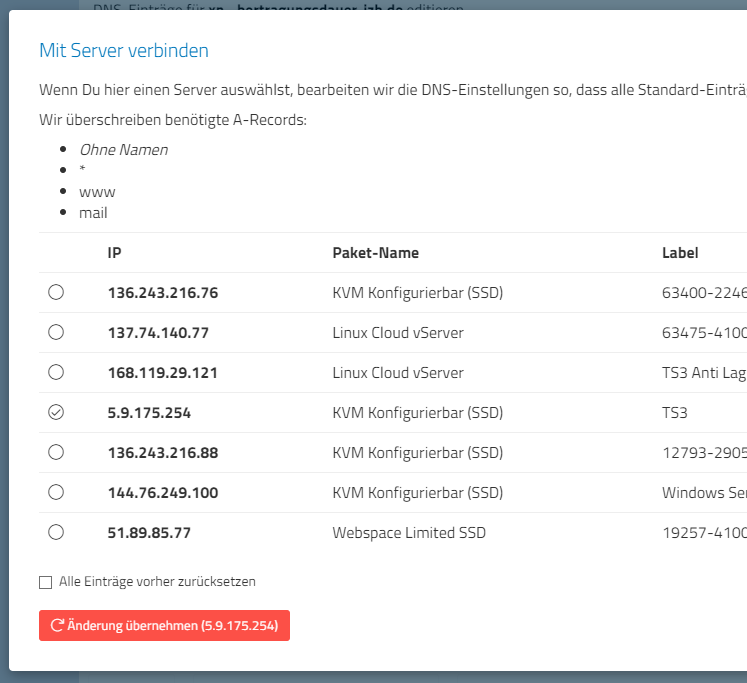 Please note that the change in DNS can take up to 24 hours.
Domain at another provider
If you have a domain with another provider, please check the FAQ there. Basically: You have to set the IP address of your vServer as A-Record "@" and "*". Since the DNS administration is different for each provider, we can't provide detailed instructions. Please contact our support if you have any questions. Feel free to send us screenshots of your configuration, so we can tell you where there might be problems,
Please note that the change in DNS can take up to 24 hours.