If you have heard about domains the word, "nameserver" shouldn't be new to you. A domain needs at least two nameservers to work.
What is a nameserver?
A nameserver answers DNS-requests to a domain. There are also different types of nameservers.
Authoritative nameserver
The authoritative nameserver is the responsible one for domains. For example: if you order a domain at prepaid hoster – we will set our 3 kramer-dns.de server as the authoritative nameserver. That's going to be the main-nameserver for your ordered domain. All DNS records will be stored in here.
Recursive nameserver
A recursive is treated as equivalent to a cache-nameserver. To avoid a domain server from suffering of requests – another nameserver from your internet provider will be interposed to cache the requests. The most known nameservers are Google DNS (8.8.8.8) and Cloudflare DNS (1.1.1.1) – but they can't be used as a nameserver for domains.
Changing the domain nameserver
Log in into our webinterface and navigate to the list of domains. Then click at the "Nameserver" button of the domain you want to transfer to another nameserver.
Then click at "edit" (german: "Editieren") to set a new nameserver. A form will open – please note the authoritative nameserver you want to set in there.

If you click now on "next" (german: "Weiter") Vionity will check other name servers based on the NS-entries in the entered server and will recommend you to set them.
If the nameserver isn't reachable, not answering or doesn't know your domain the process failed.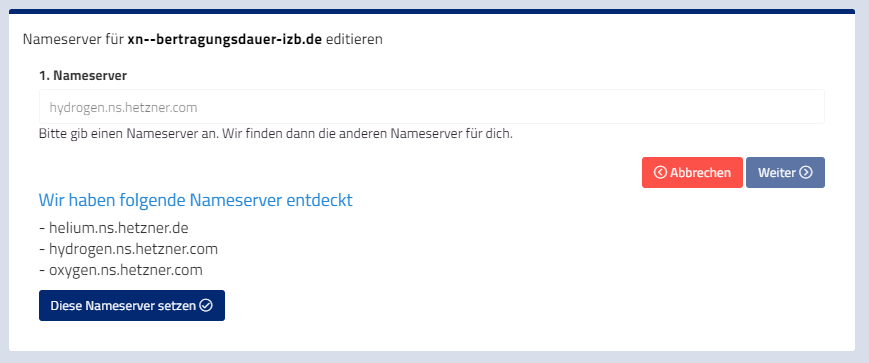 With a final click on "set these nameservers" (german: "Diese Nameserver setzen") your changes will be transferred to our registrar. This can take some minutes but will continue processing in the background.
Your nameserver should be active within the next 24 hours.
Glue Records
If you need a glue record please contact our support. You will only need them if you know what they are. To set these, we need the nameserver domain as well as the according IP-addresses. We will set this for you as soon as possible.