With Sinusbot you can listen to music on your TeamSpeak or Discord server quickly and easily. The bot connects to your voice channel and offers a variety of features.
You can install the Sinusbot via the App Installer in the Cloud Manager. We will show you how to do that in this article.
First, of course, you need a virtual server. It doesn't matter if you have rented an OpenVZ cloud server or a KVM root server. You can only install a database via the web interface if you have a Linux operating system on your server.
Go to the Cloud Manager of your server and scroll down. There you will find the action "App Installer". We use this to install software on your server.

After opening the app installer, click on the Sinusbot tile.

For a regular workflow we recommend to install YoutubeDL and to register the Sinusbot as a service. This way you can start and stop it later using service sinusbot start/stop.
By clicking on start installation the desired software package will be installed on your server. Wait a moment until the process is finished.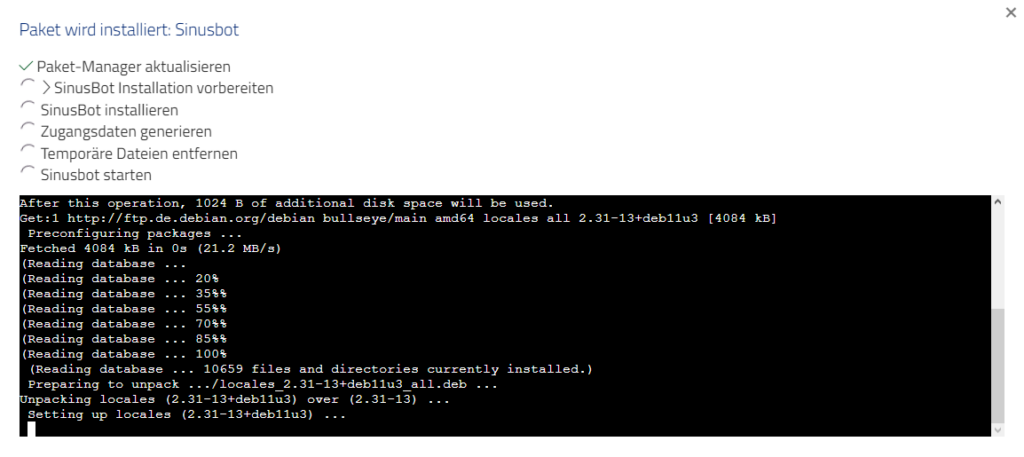 In the final dialog you will find all information about the installation of the Sinusbot. Save this data well. You can also find the information under /root/sinusbot.txt.
The Sinusbot is currently You can find the login mask at http://[IP]:8087/. There you can login with the username admin and the generated password.
The configuration can start!