In this article we will explain you why your server can be unreachable and how you can solve it.
There can be several reasons why the server is unreachable.
Your server was locked due to overload
We lock servers sometimes. But never for no reason. For example, we have to shut down your server if it generates too much load. Please contact our support. We will discuss everything together.
Dein Server wurde wegen Abuse-Meldungen gesperrt
We will block your server immediately if we detect any unusual activity on your server. This can happen, for example, if your server has been hacked. Then it sends malicious software to other servers. We have to prevent this. In this case, please contact our support team.
You have changed the SSH port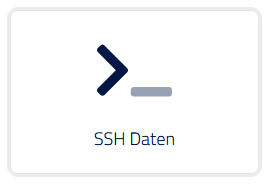 You may think that your server is not working because you cannot reach the server via SSH. This can happen if you have changed the SSH port, for example. Then your server is no longer reachable on the default port. You can check the current SSH port in the web interface under "SSH data".
You have activated a firewall
Maybe you activated a firewall and forgot to unlock a port? Or maybe you locked yourself out? This can happen, for example, if you have installed Fail2Ban and have authenticated yourself 3 times incorrectly on the SSH server. No problem! Just contact support and we will take care of it.
The problem is up to us
It may happen that one of our host systems is unavailable. Our status web page can provide you with more details.
We usually respond to outages immediately, solve the problem and bring all host systems back up. However, if we do not find the problem immediately, it may take a little longer.
Reimbursement Policy
Information about our goodwill promise can be found here: https://www.prepaid-hoster.de/info/kulanz-und-gewaehrleistung.html